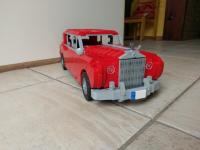 Member Info
Member Type: Regular Member
Profile Views: 841 views
Friends: 8 friends
Last Update:
Joined:
Johan vd Pluijm

I have a question: I have build a big minifig scal submarine (2,2 meter) and that consists out of 3 hull-parts of +/-70 cm each and the conning tower. The parts are more than 4 kg each.
 I'd like to build a transporting vehicle for it but I only have 4 M-... more
Groups

(1)

Forum Posts

(10)

Videos

(3)

More +
Johan vd Pluijm Playing outdoors today :-)
It has the capability to drive across the grass, although turning on the grass is only possible with a large turning radius.